I am joining up with Rachael at
You, Me, and Natalie
for Waist Watcher Wednesdays.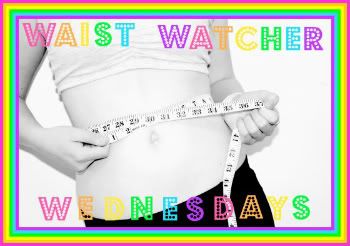 Week 1
Week 2
Week 3
Week 4
Week 5
Week 6
So this past week wasn't really a great one. I worked out last Monday and I havne't been back to the gym since. I did bartend/waitress Friday and Saturday night and worked my tail off though so that helps, but the past few days I've been sick. I feel like crap!
I didn't track well this week either, I need to get back to doing that. I do weigh myself every morning though and watching the number drop is comforting, though I'm not sure if some of the weight loss I've seen is in part to being sick. We'll see in another week or so I guess.
Hopefully I'll start feeling better tomorrow, I absolutely hate being sick. How am I suppose to get anything done?!
Stats:
Weight:
164 161.6 160.2 159.2
157.6
BMI:
24.7 23.9 23.7 23.5
23.3
Down 1.6 lbs this week and 6.4 total. It's not going super fast, but it's steady and I'm pretty happy with that. When I get under 150 it's going to feel very good. I haven't been under 150 since I was a Sophmore in highschool.
Measurements:
Red

- Up from last week
Green

- Down from last week
Black - Stayed the same
Bust:
37" 36.5"
36"
Chest:
32"
31.25"
Waist:
31" 30.5" 30.75" 30"
28.75"
Stomach:
36.5" 35.75" 36"
35"
Hips:
39.5" 39" 39.5"
39.25
Thighs:
25.5" 24.5" 24.25"
24.5"
Calf's:
16" 15.5" 15.75"
15"
Upper Arms:
11.75" 11.5" 11.75"
11.25"
Forearms: 9" 9.25" 9" 9.5"
It feels so good to see the numbers dropping. I'm most excited about the waist. I'm not sure how accurate it is, but I measured and remeasured. Guess I'm just in shock.
If you'd like to join in post here or link up with us over at
You, Me, and Natalie.
Also Linking up here:
Signing off,
Ida Jade